Probably the most dog friendly place in the UK
There are so many exciting things to do, see, sniff and explore with your four-legged friend on the Isle of Wight. Enjoy long walks in the country and swimming on the beach, through to dog friendly places to eat and family friendly attractions so that no one needs to stay home.
A dream destination for owners and their beloved pets, the Isle of Wight is largely dog friendly and offers an abundance of wide-open space for you and your pup to explore. Discover your ideal home from home with a good choice of dog friendly accommodation, cosy pubs for your pooch to curl up by the fire and a great range of pet services should you need them.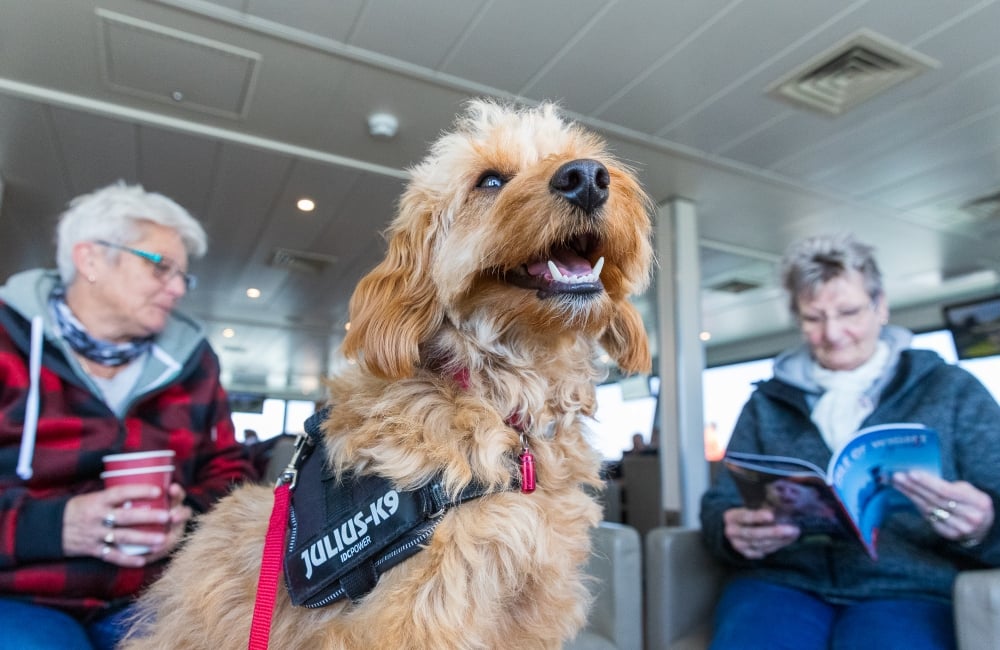 dog friendly ferries
NORTH LOUNGE
The North Lounge is located on the upper passenger 'A deck' on board Red Osprey, Red Falcon and Red Eagle, with comfortable seating and room for dogs at foot, easy access to the sun deck and water bowls.
Refreshments are available from the Steam Café in The North Lounge, serving hot and cold drinks, ice creams, sandwiches and snacks, as well as Rex's Range dog friendly ice cream and delicious Dewkes Treats for your pooch.
OUTER DECKS
Dogs are permitted on the outer passenger decks of the vehicle ferries, a spacious outdoor area for them to enjoy the wind in their ears, room to walk about and exciting sea smells. We recommend a coat for winter days out on deck and keeping an eye on temperatures and sensitive paws in summer. Please stay inside and keep your dog hydrated on hot days.
You don't need to book into The North Lounge or outer deck with your pet, seating is first come first served with friendly dogs and owners making the most of the designated space. Sensitive or reactive dogs are permitted to stay in cars on the vehicle deck. While our helpful staff will keep an eye on any animals in cars and livestock onboard, please ensure that your dog has water, air circulation and is comfortable and safe during the journey.