Reliable and flexible options for your freight requirements
Red Funnel's dependable, cost-effective, and flexible freight service between Southampton and East Cowes makes it easy to transport your goods across the Solent. We've developed solid relationships with many companies who trust Red Funnel to move their goods across the Solent, and we look forward to working with you to provide a solution for your freight transportation needs. 
Reasons To Book With Red Funnel
Friendly, efficient account management
Ports served by good road connections
Largest cross-Solent ferries, and dedicated freight ferry with no centre casing meaning easy loading and disembarkation
No weight restrictions up to 44 tonnes
Offer wide load crossings seven days a week
365 days a year service with 24/7 timetable
Unmatched service reliability & punctuality, even in bad weather!
Dedicated hazardous sailings and DG advice team
Highly competitive rates
Discounted hot/cold meals & drinks for freight drivers
Freight Offers
2023 Removal Offer: Save 20% on removal lorry travel when booking a sailing after 08:00. Call our Freight Centre on 01983 681336 and quote REMOV at time of booking.
 
2023 Horsebox Offer: Save 20% on horseboxes and towed vehicle horse trailers up until 31 December 2023. There are no limits on how many times you book and no time restrictions. To Book: Call our Freight Centre on 01983 681336 and quote LIVESTOCK at the time of booking.
How To Book
Fill out the form below or contact our Freight Centre on 01983 681336 to book your delivery up to 12 months ahead. Please ensure you have your account number (if applicable, preferred sailing dates and times, vehicle weight and length, and details of any dangerous goods at time of booking.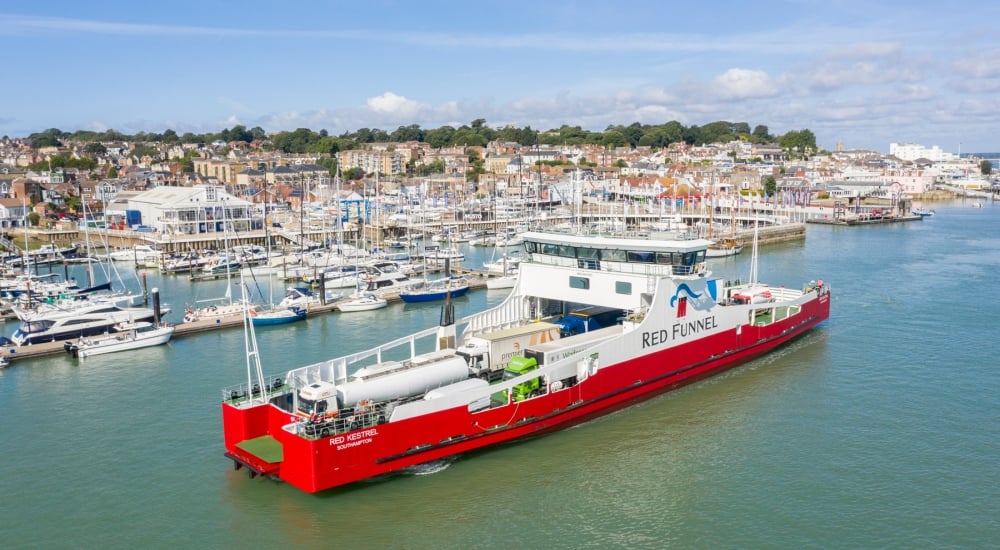 Contact Us
Call: +44(0)1983 681336
Email: [email protected]
Sales Team Opening Hours
Monday - Friday: 07:30-17:30
Saturday: 06:00-14:00
Sunday: 08:00-16:00
Bank Holidays: 08:00-15:00
Red Funnel Freight Team, Suite E (North), First Floor, The Columbine, Venture Quays, East Cowes, Isle of Wight, PO32 6EZ
Terms & Conditions
All amendments are free of charge, however a fare difference* may apply if you change your travel times.
Any fare difference must be paid for in full at time of amendment.
If you move to a cheaper sailing no refund will be due as you have reserved a space we can no longer guarantee re-selling.
If the booking is cancelled at least 48 hours before travel, then there is no charge and the full balance is refunded.
If the booking is cancelled between 24-48 hours before travel, a 25% cancellation fee is applied and the remaining balance is refunded.
If the booking is cancelled within 24 hours of travel, no refund is due.
Should your vehicle fall outside of the dimensions you have booked you will be required to pay the difference in fare and will not be guaranteed your space on the sailing
Dangerous Goods
Dangerous goods shipments should be declared at least 24 hours in advance. It's a legal requirement for the hauler/shipper to advise Red Funnel Ferries of all Hazardous Goods/Marine pollutants being carried to and from the Isle of Wight.