Cross The Solent in 60 minutes or less
We've proud to operate central routes to the Isle of Wight from Southampton. Our Red Jet Hi-Speed service for foot passengers is fast and efficient – offering customers the quickest route between London and the Isle of Wight by train – and our Vehicle Ferries cross in a leisurely 60 minutes.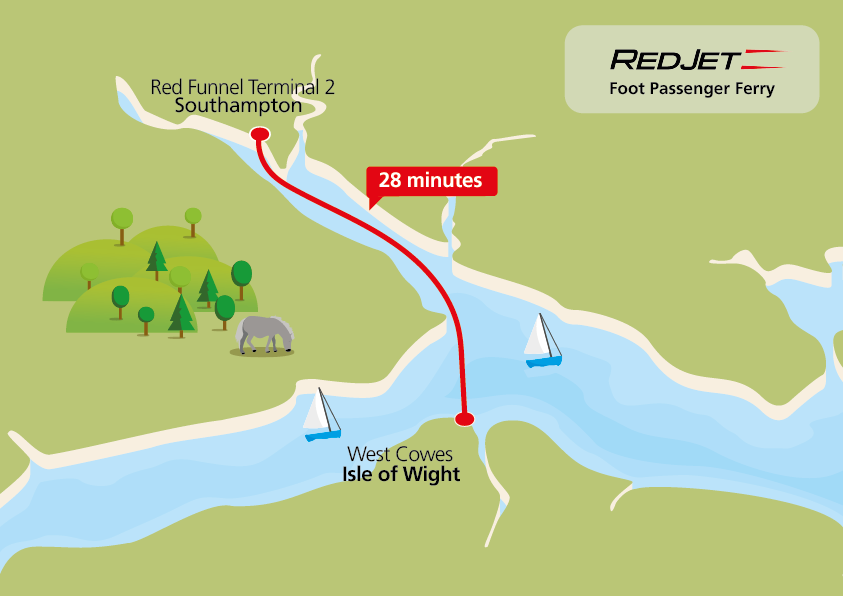 No booking required. Just turn up, buy a ticket, and get on board! 
Crossing time 28 mins (11.7 miles)
Daily departures every 70 mins (35 mins at peak times)
Operates year round excluding 25 December
Walk-on passengers, personal luggage and bicycles only
Connecting bus, taxi & car hire services
This option is ideal for business or leisure trips to Cowes, Gurnard, Northwood, or Newport. Taxis pick up from right outside our West Cowes terminal, and the nearby bus stop has regular connections across the whole Island. Many of the Isle of Wight's major employers, including Gurit, GKN Aerospace, BAE Systems, Vestas, NHS, HM Prisons, etc are all located within easy reach of the Red Jet service.
Southampton-West Cowes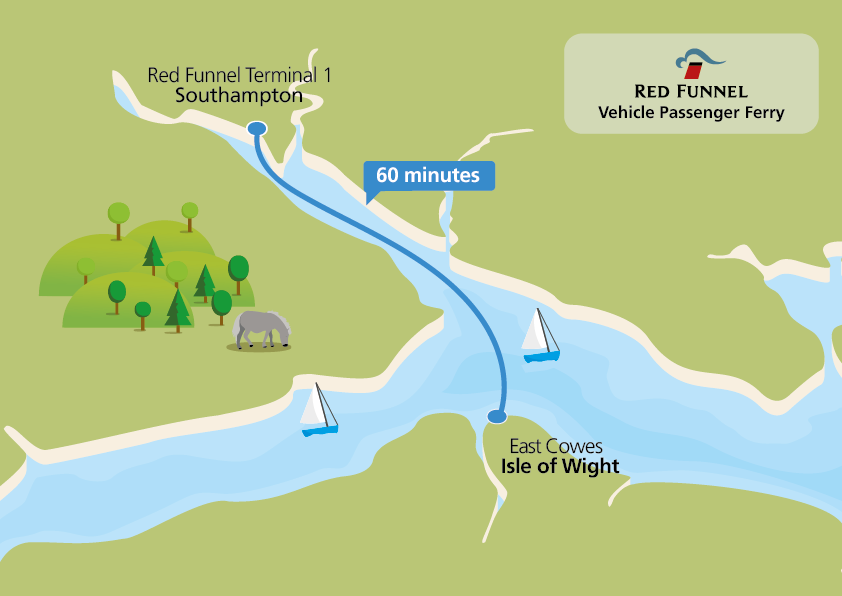 Pre-booking of vehicles is strongly recommended. Book online, by phone, or via your holiday accommodation provider. 
Crossing time 60 minutes (11.7 miles) 
Departures every 60 minutes March-October
Departures every 90 minutes November-February
Operates 365 days/year
Passengers and all types of vehicles
Connecting bus, taxi & car hire services
From East Cowes, enjoy easy access anywhere on Island by road or public transport. Osborne House and the Isle of Wight Festival, held each June, are within a short drive. 
 
Southampton-East Cowes
Points of Interest
On both sides of the Solent, there's lots to see and do whether you're crossing for leisure, for work, or simply for a change of scenery. Explore points of interest on the Isle of Wight and in and around Southampton. 
Royal Pier Pavilion

This one's easy to spot as you arrive at our Southampton ferry terminal, particularly at night when it's lit up in purple lights! When Red Funnel was first formed, we ran a fleet of paddle steamers that operated excursions to destinations around the Island, and along the south coast. These departed from "Royal Pier", and the impressive pavilion building is still in use as a restaurant.
Ocean Cruise Terminal

This striking landmark on Southampton's waterfront is where you'll find some of the world's largest cruise ships docking. See if you can spot some of the famous Cunard and P&O Cruises vessels as you depart for the Island, and if you're travelling in the late afternoon/early evening you might even get to sail alongside them as they depart Southampton for their global destinations.
Hythe Pier

The Hythe pier is difficult to miss, as at 640 metres in length, it's the 7th longest in Britain. It is also the home of the world's oldest working pier train, which links the village of Hythe and its marina to a small ferry that runs a regular service to the City of Southampton.
Netley Chapel

This striking chapel, on the eastern side of the river, is all that now remains of one of Britain's first purpose-built hospitals. Constructed for veterans of the Crimean War, the original 220-acre site was the largest of its time but was demolished after a fire in 1966. The site is now open to the public as part of Royal Victoria Country Park.
Calshot Castle

The picturesque Calshot Castle was originally built by Henry VIII to defend the entrance to Southampton waters. As our ferry reaches the Solent, the castle is easily visible at the end of Calshot Spit, which extends from the west into the main waters, with Calshot beach and its long row of beach huts visible further along.
Columbine Building

The striking Columbine building on the East Cowes waterfront has been a central point of Island industry for many years. Starting with Saunders Roe, which was involved in everything from sea planes, hovercrafts, and rockets, and is currently home to Wight Shipyard, which built two of Red Funnel's Red Jet fleet. When you spot the iconic Union Jack doors, you've arrived on the Island!
Other Red Funnel Ferries

Southampton's waters and the Solent are always busy with shipping movements, not least with our very own Red Funnel fleet. At peak time we will often have our three vehicle ferries, two Hi-Speed passenger ferries, and our freight ferry all out on the water – so watch out for them, and don't forget to give our other passengers and crew a customary wave!
Cowes Castle

As you approach the Island and arrive at Cowes Harbour, you'll see another of Henry VIII's forts, Cowes Castle. The castle is now home and clubhouse to the Royal Yacht Squadron, whose Club organises yacht racing as a principal feature of the now globally famous Cowes Week regatta. Look carefully at the front and you might see the cannons that are used for starting races.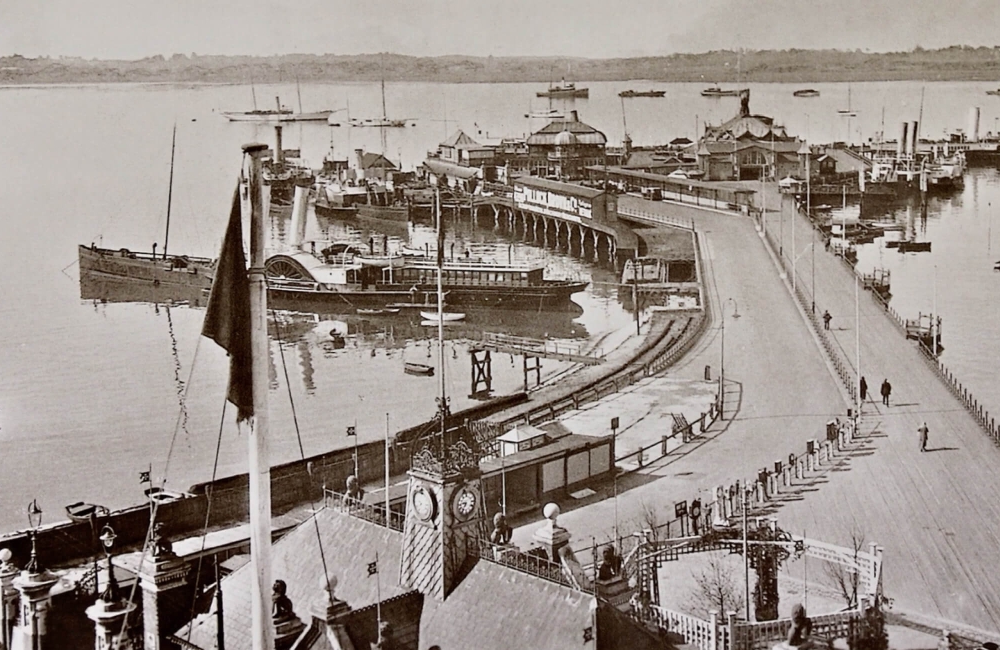 Company Timeline
Tracing our roots back to when it all started in 1820, our company timeline provides an at-a-glance snapshot of important milestones and key dates in Red Funnel's history.