An elevated onboard experience.
Red Funnel's premium Signature Lounge offers a quiet, relaxing space with enhanced WiFi and panoramic views. Enjoy table service, complimentary snacks and beverages with comfortable seating during your crossing.
The Signature Lounge Experience Includes:
A relaxed atmosphere with comfortable seating
Contemporary, stylish interior
Complimentary drinks and snacks
Extended breakfast and lunch menu
Dedicated table service
Enhanced WiFi
Premium bar access with 20% beverage discounts
Panoramic views of the Solent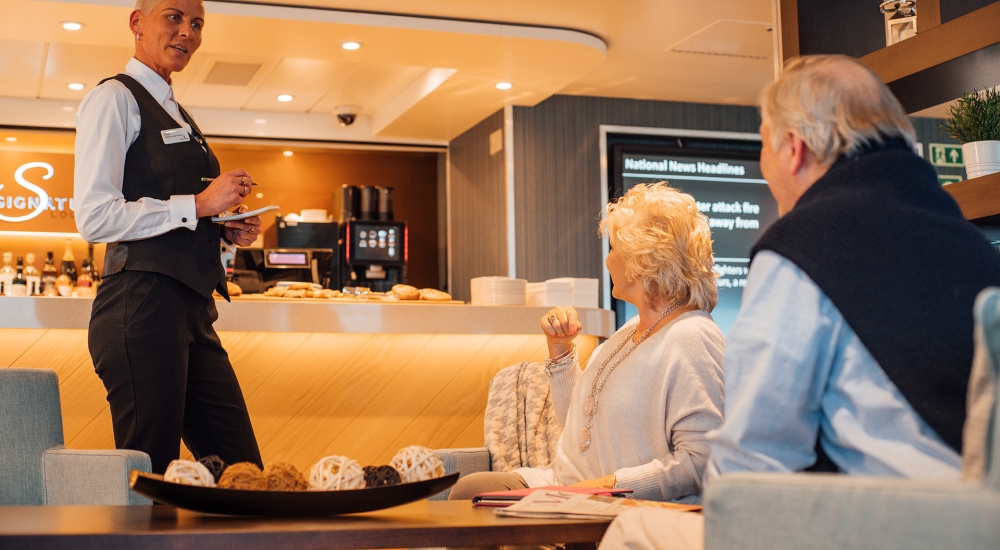 How To Book:
The Signature Lounge is open from 7:00am – 6:00pm (departing from Southampton) and 08:30am – 7:30pm (departing from East Cowes). You can easily upgrade to the Signature Lounge on daytime sailings between Southampton and East Cowes for an additional £12.50 per person, per crossing. 
To guarantee a spot in our premium lounge, you can prebook online by selecting the upgrade check box when you select your sailings. If you've already made your booking, you can still upgrade by calling our Contact Centre on (+44) 023 8001 9192. 
Please note: Persons under 12 and pets (with the exception of assistance dogs) are not permitted in the Signature Lounge.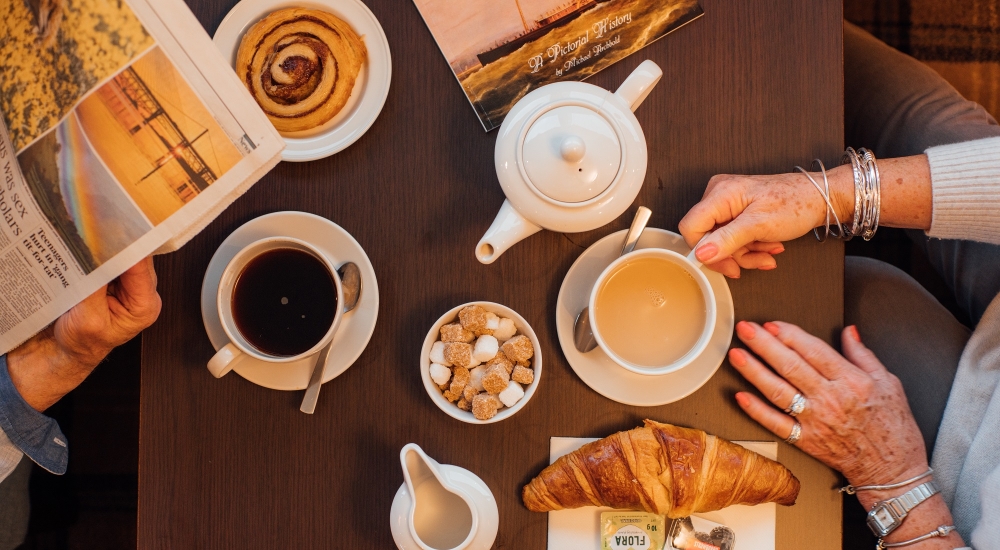 Food & Drink
Our Signature Lounge food and drink menu offers complimentary snacks and hot/soft beverages during your crossing. 
Until 11am, choose from complimentary pastries, muffins, crisps, fruit and nuts, or you can purchase bacon or sausage ciabatta rolls, filled croissants, porridge or yoghurt from the breakfast menu.
From 11am, snack on complimentary cookies and shortbread, teacakes, crisps, nuts, fruit, flapjacks and scones with cream and jam, or purchase a range of toasties, sandwiches or salads from the menu. 
With a Signature Lounge upgrade, you can save 20% on all other drink purchases. 
Terms and Conditions
Signature Lounge upgrade fees are per person, per sailing, in addition to standard Saver and Flexi ticket ferry fares.
Standard upgrade fee is £12.50 per person, per sailing
In order to guarantee access to the Signature Lounge you are required to check in at least 30mins prior to departure.
Signature Lounge upgrades are non-refundable and do not alter the amendment, refund and cancellations rules for Saver or Flexi fares. Separate refund & cancellation rules apply to third-party supplied products and services.
All passengers in Signature Lounge parties must be 12 years of age or over.
Pets are not allowed in the Signature Lounge, except for assistance.
Signature Lounge upgrades are subject to availability.
Red Funnel reserves the right to refuse entry to the Signature Lounge or ask a customer to leave the Signature Lounge on the basis of; non-suitable attire (e.g. work overalls); disruptive or inappropriate behaviour or; any breach / suspected breach of these terms and conditions. In such instances, the decision of Red Funnel staff / management is final.
The considerate use of mobile phones is permitted in the Signature Lounge, but please be respectful of other customers whilst making or receiving calls.
Customers must not remove food, drinks, magazines, newspapers or any other item that is the property of Red Funnel from the Signature Lounge.
Red Funnel's standard terms of carriage apply to all Signature Lounge bookings.