The Most Haunted Island in the World?
Apparently the Isle of Wight is the most haunted Island in the world, and there's scarcely a place where you won't come across ghostly apparitions or things going bump in the night.
Ghost Walk organiser Marc Tuckey and ghost book writer Gay Baldwin make this claim on their website www.ghostisland.com, which is the best place to check out all things ghostly on the Isle of Wight. You can also find out about Marc's walks, Gay's books and the special 'overnighters' that they organise at haunted venues.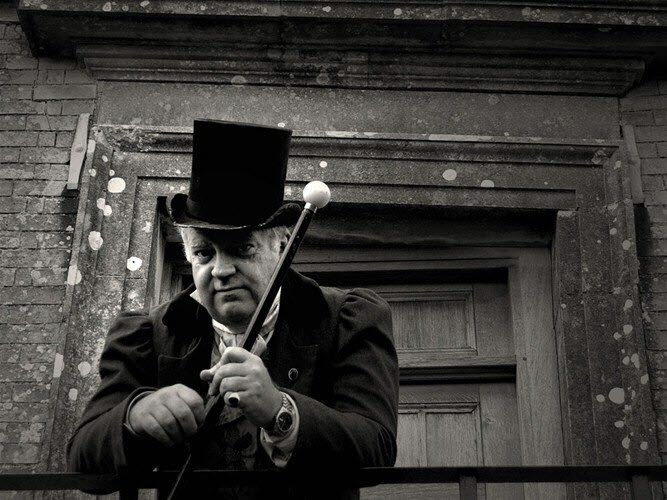 Ghosts Galore
The goriest ghost is perhaps that of Michael Morey, who was hanged for killing his grandson back in 1737. His corpse was left to rot on Downend gibbet at Gallows Hill near the Hare and Hounds pub until it became "an offence to eye and nostril". You can follow the story on the walls of the pub and see the gibbet crossbeam. His restless spirit is said to roam Gallows Hill carrying a large axe.
Just down the road is Arreton Manor, reputedly haunted by a young girl who was pushed from a window to her death and who is seen in a blue dress crying 'Mama, Mama'.
Stay Scared
Other haunted places where you can stay are the Priory Bay Hotel, haunted by a sweet, gentle ghost; the spirit of a young girl and the pet dog she loved beyond the grave. Her beloved spaniel was stuffed and put in a glass case and the girl's ghost is seen running down corridors, calling and sobbing, "What have you done with my dog?" according to Gay Balwin's second 'Ghost's of the Isle of Wight' book.
Also the fairy themed Enchanted Manor Hotel at Niton boasts the ghosts of a gentleman in Edwardian dress, mischievous ghost-boys and the ghost of Mrs Prendergast who keeps an eye on her old home. From here you can take a walk down to St Catherine's lighthouse where a ghostly figure has been seen and photographed right at the top when nobody was on the premises.
Most Haunted
Ventnor Botanic Gardens is said to be one of the most haunted places on the Isle of Wight, and is also the venue for one of Marc Tuckey's evening Ghost Walks. Many tuberculosis sufferers died at the Old Royal National Hospital that once stood here and apparently the ghosts of some linger, weeping and groaning. There are smells of ether, sightings of a consumptive looking ghost and phantom nurses in old fashioned uniforms walk the gardens.
But the most haunted of locations is Knighton Gorges (pronounced Kay-nighton by locals to avoid confusion with Niton on the Island's south coast), and the house that once stood at this spot - local ghost hunters gather at midnight on New Year's Eve to see the house reappear. People have also seen stone creatures appear on the weathered gateposts that are all that remain of the house, seen a coach and horses driving by, and heard laughter and music from the house.
The old manor house is the subject of Gay Baldwin's book 'Ghosts of Knighton Gorges', and it is said to have "a blood-red history a testament to murder, suicide, insanity, malice, and a gallery of ghosts."
About the Ghost Hunters
The portal to all of these ghostly goings-on was opened back in 1977 when, as a young reporter at the County Press, Gay was asked to write a Christmas feature. As she lived near to Billingham Manor she decided to base her article on the ancient house that once boasted a visit from Charles I. Recounting the apparition of the King's severed head, 'shining with a phosphorescent glow' had readers writing in to the paper with their own ghostly tales, and Gay and her colleague Ray Anker realised they probably had enough material to turn all of these stories into a book.
Marc Tuckey suggested making some of the stories into a guided walk and the first walk around Newport was so popular that he has extended his repertoire to six walks per week during the season, using Gay's gathered stories as the basis for his spine tingling tales. Meanwhile Gay has published eight ghost books, and is working on her ninth, based on Island hospitals. Readers continually contact her with new sightings and visitors to the Island often see ghosts too.
Carisbrooke Castle, Osborne House, Appuldurcombe House, Fort Victoria, Brading Roman Villa and the Royal Yacht Squadron all have ghosts, along with many other locations, and there are even ghost ships seen out at sea.
Other haunted pubs include The Castle and Wheatsheaf Inns in Newport, which is part of the Newport Ghost Walk and The Dairyman's Daughter at Arreton Barns where you can meet the resident ghosts in the area.