Making group travel easy
From small minibus groups to large coach trips, Red Funnel's dedicated customer service team is here to help plan a getaway everyone will love. In addition to making recommendations on where to stay and what to do, we can handle your group's bookings, including admission to the island's premier attractions. 
Group travel options
Cross-Solent travel for coaches from Southampton at competitive rates, especially when travelling mid-week 
Option of coach drop off in Southampton, foot passenger travel across the Solent and Island coach pick-up from either East or West Cowes. Luggage can be accommodated separately. 
Online booking for minibuses up to eight metres
More than 155 years experience operating ferries to/from the Isle of Wight and extensive knowledge of what the Island has to offer large coach groups through to small minibus size parties with specific interests.
Large terminals with dedicated coach lanes and a check-in time of just 30 minutes. Facilities include Steam Coffee Co. outlets, newspapers & magazines, internet access, toilets, outside decked seating area and on peak dates we even offer BBQ's & live entertainment.
The largest purpose built ro-ro ferries serving the Island with round-the-clock sailings. No centre casing makes loading and discharge really easy.
Onboard we have a dedicated café restaurant serving a wide variety of hot and cold food including the famous Red Funnel breakfast, a separate well stocked bar and premium Steam coffee outlet. We even offer FREE Wi-Fi. Facilities you'd expect include lifts, disabled facilities and passenger assistance and can organise bridge visits for up to four people upon request.
Highly trained and friendly staff who are there to ensure your party have a great travel experience and get the most from their visit or holiday.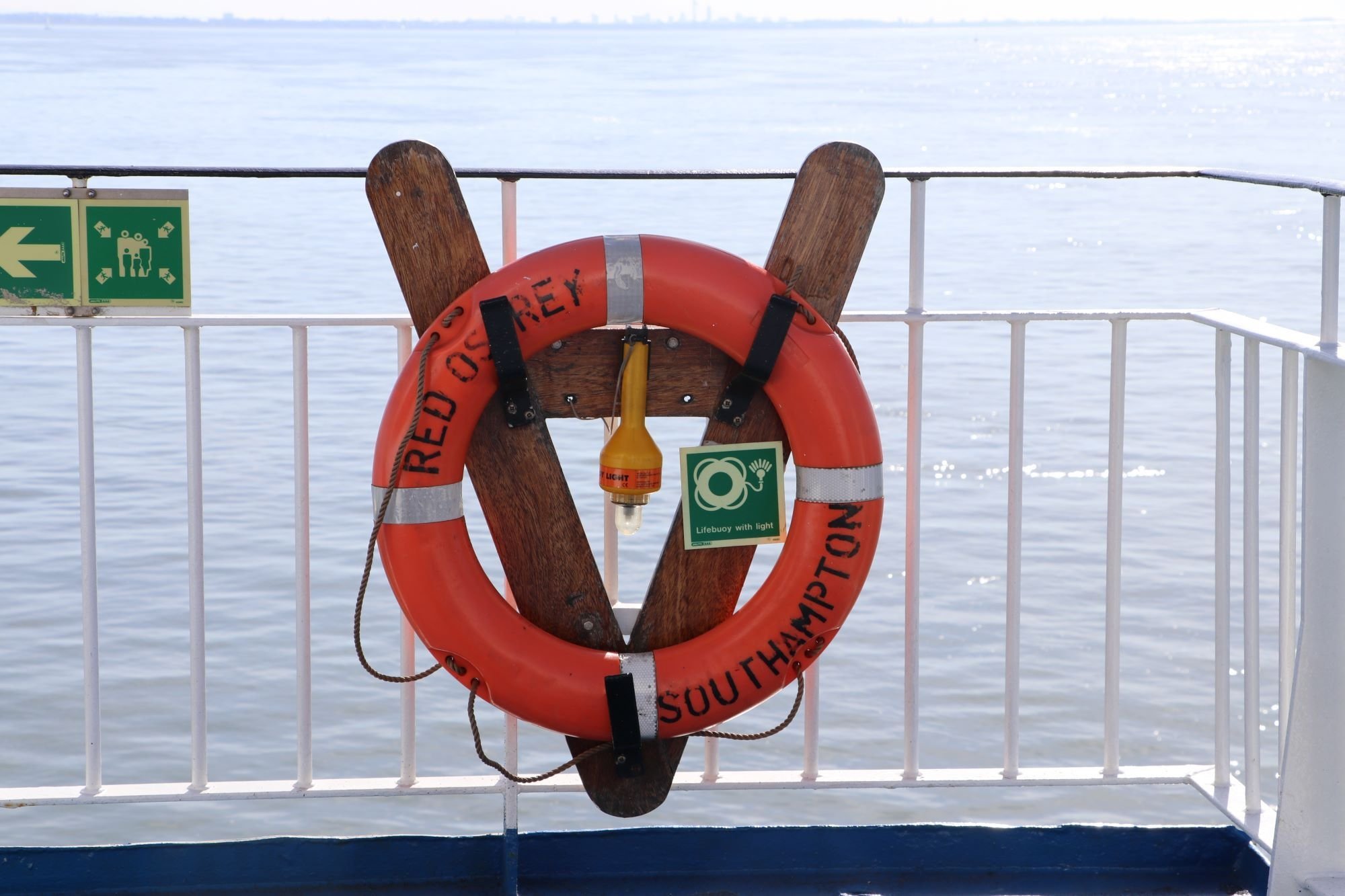 Contact us
Call the Red Funnel Sales Team Monday-Friday 09:00-17:00 by calling +44(0) 1983 681338 or emailing [email protected].
Points of Interest
On both sides of the Solent, there's lots to see and do whether you're crossing for leisure, for work, or simply for a change of scenery. Explore points of interest on the Isle of Wight and in and around Southampton. 
Royal Pier Pavilion

This one's easy to spot as you arrive at our Southampton ferry terminal, particularly at night when it's lit up in purple lights! When Red Funnel was first formed, we ran a fleet of paddle steamers that operated excursions to destinations around the Island, and along the south coast. These departed from "Royal Pier", and the impressive pavilion building is still in use as a restaurant.
Ocean Cruise Terminal

This striking landmark on Southampton's waterfront is where you'll find some of the world's largest cruise ships docking. See if you can spot some of the famous Cunard and P&O Cruises vessels as you depart for the Island, and if you're travelling in the late afternoon/early evening you might even get to sail alongside them as they depart Southampton for their global destinations.
Hythe Pier

The Hythe pier is difficult to miss, as at 640 metres in length, it's the 7th longest in Britain. It is also the home of the world's oldest working pier train, which links the village of Hythe and its marina to a small ferry that runs a regular service to the City of Southampton.
Netley Chapel

This striking chapel, on the eastern side of the river, is all that now remains of one of Britain's first purpose-built hospitals. Constructed for veterans of the Crimean War, the original 220-acre site was the largest of its time but was demolished after a fire in 1966. The site is now open to the public as part of Royal Victoria Country Park.
Calshot Castle

The picturesque Calshot Castle was originally built by Henry VIII to defend the entrance to Southampton waters. As our ferry reaches the Solent, the castle is easily visible at the end of Calshot Spit, which extends from the west into the main waters, with Calshot beach and its long row of beach huts visible further along.
Columbine Building

The striking Columbine building on the East Cowes waterfront has been a central point of Island industry for many years. Starting with Saunders Roe, which was involved in everything from sea planes, hovercrafts, and rockets, and is currently home to Wight Shipyard, which built two of Red Funnel's Red Jet fleet. When you spot the iconic Union Jack doors, you've arrived on the Island!
Other Red Funnel Ferries

Southampton's waters and the Solent are always busy with shipping movements, not least with our very own Red Funnel fleet. At peak time we will often have our three vehicle ferries, two Hi-Speed passenger ferries, and our freight ferry all out on the water – so watch out for them, and don't forget to give our other passengers and crew a customary wave!
Cowes Castle

As you approach the Island and arrive at Cowes Harbour, you'll see another of Henry VIII's forts, Cowes Castle. The castle is now home and clubhouse to the Royal Yacht Squadron, whose Club organises yacht racing as a principal feature of the now globally famous Cowes Week regatta. Look carefully at the front and you might see the cannons that are used for starting races.